Working in Amsterdam can be done in many ways. But there is one job that is truly typically Dutch/Amsterdam. You might have guessed it; it's a bike deliverer.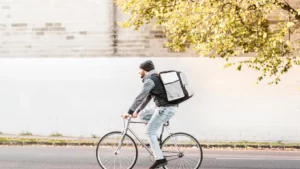 Why work as a bike delivery driver in Amsterdam?
We will answer this in detail. First of all, Amsterdam is a beautiful city that tourists, locals and expats love to cycle through. The city has a wonderful history, which means that there is a lot to see. Since many people cycle through the city voluntarily. So why not get paid? Exactly, what we also think. As a bike messenger, you are constantly in motion, enjoying the outdoors and having a lot of contact with other people. Besides, a good bike deliverer can earn a super good hourly wage.
What are the possibilities for working in Amsterdam?
In Amsterdam, there are several possibilities to work as a bike delivery driver. First of all, it is possible to work as a freelancer for one or more delivery services. Think of Gorillas, Zapp, Cycloon, Thuisbezorgd, etc. However, this entails a lot of extra work, such as keeping the accounts, filing VAT returns and taking out (expensive) insurance. Therefore, there are also parties that employ bicycle couriers and take these extra activities off your hands. In Amsterdam, this organisation is called Bikeshift. They make sure that you can get to work every week at a delivery service in Amsterdam, while you are busy making deliveries, they take care of the peripheral issues. This means that you get paid every week, you get flexibility in filling in the schedule and you get a chance to win bonuses.
Which business can I work for as a Bicycle courier?
There are a few businesses where you can work for as a bicycle courier. Or so as the Dutch say: Amsterdam-bedrijven. We have already described that there are various parties that do bicycle delivery. Each company has its pros and cons. However, there is one company you should definitely check out and that is Bikeshift. They ensure that you only need to focus on what is important. Completing as many bike deliveries as possible and with good results. Is that logical? Not really, because this company is unique in its kind.
Everything you need to know about Amsterdam
There are countless websites that purely display job vacancies in Amsterdam, but Amsterdam WiKi does things differently. This website offers loads of information on job vacancies in Amsterdam. It also discusses plenty of other topics. Curious? Visit Amsterdam Wiki here.